Mid Autumn Festival and National Day Holiday 2014
Details

Created on Tuesday, 02 September 2014 16:02
Mid Autumn Festival is coming! According to China's public holiday schedule, we will be closed from 6th September to 8th September.
28th September will be a working Sunday.
National day holiday week will begin from 1st October till 7th October. 12th October will be a working Sunday.
See the calender below for a clearer explanation: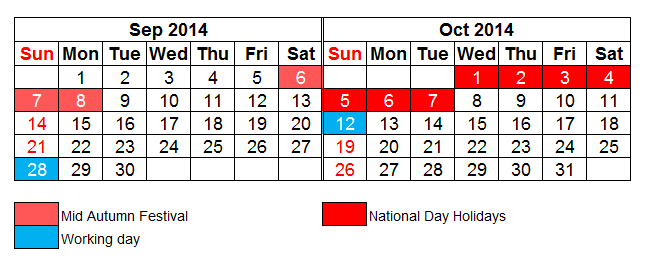 If you wish to have items that have arrived to be sent first, please go to your [My Shipments] page to manage your shipment. Deselect those yet to arrive items (leaving only arrived items) will put the shipment on packing queue immediately. Please do this 5 days prior to the holidays to ensure that it is in time for shipment.
As a side note... October, November and December will be VERY busy if past years were any indication. The heat of the rush will go up as it gets near Christmas. If you wish to shop for Christmas, now it's good time to do so. We are already feeling the pressure now as the season is changing, with orders filling up with Autumn and Winter clothings already. We are doing our best to keep up with the demand. Thank you for your understanding.